פז - Paz translates to Golden or Precious Stones from Hebrew and Peace from Spanish.
I am a certified DFA practioner and LMP in the State of Washington. At Paz Therapeutics I include the whole person. Whether you are recovering from a brain injury, surgery, chronic headahes, or you are just feeling stuck in your life, I will incorporate posture in sitting and walking, breath, and physical manipulation (either DFA or massage) to help bring change and integration to your system.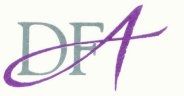 See the Modalities page for a more detailed description of rehab massage and the Duggan/French Approach to Somatic Pattern Recognition (DFA) or click the logo to the right to go to the DFA International website.
To set up an appointment, use the Contact Me page with your preferred times, a little about what you want help with, or any questions or concerns you have. I will be in touch within 24 hours to set up an appointment, and answer any questions you might have. Or visit my blog.
Thanks for visiting, and I look forward to working with you.